Led by prof. Jose Rolim, the TCS-Sensor Lab of the University of Geneva (UNIGE) is long established in the field of networks and systems, with pioneer research conducted regarding networking protocols and the Internet of Things. It has participated in more than 15 EU and nationally funded research projects, delivering high level scientific as well as applied results, including a networking standard published by ITU-T.
In particular, during the past years, supported by three large-scale projects (EU Hobnet, IoT-Lab and SNF SwissSenseSynergy), a testbed allowing for experimentation with novel networking technologies has been deployed at UNIGE premises, equipped with state-of-the-art networking infrastructure including programmable routers, single-board computers, dedicated back-end servers and more.
The above infrastructure, along with the proven experience of TCS-Sensor lab researchers in networking technologies, reinforces the project consortium towards successfully implementing the proposed networking solution for the IDS application.

The cross-departmental Virtual Medicine Center is a novel research hub commencing operations at HUG in 2022 with the competencies and technological infrastructures for transferring innovation and for bringing fundamental research to the clinical environment. The Center is at the interface of engineering, medicine, and human behavioral research, focusing on translation of technological advances to clinical research, bedside, and patient homes.
The Center aims at pioneering the use of new technologies from Virtual Reality (VR; immersive virtual reality, augmented reality, mixed reality) and Internet of Things (IoT; smart healthcare, wearables, remote monitoring) for clinical research and new medical practices for research, diagnostics, anesthesia and therapy, or simply for patients' wellbeing.
The Virtual Medicine Center is open to develop applications across all medical fields and the current proposal demonstrates an important use-case to demonstrate how surgical expertise at HUG informs cutting edge VR and AI development with industry partners in the frame of the InnoSuisse project.
It has already acquired a solid experience in mixed reality guided surgery and using virtual reality for intervention planning. The neurosurgery team is actively involved in surgical training programs locally and at the European level (EANS) by regularly organizing craniotomy and spine surgery hands-on courses and performing research on medical and surgical training. It collaborates with GlobalVision a VR developer company in Geneva and Brainlab, the global leader in neuronavigation.
Implementation Partner(s)

Daniel Thalmann is honorary professor of EPFL and research Director in MIRALab sarl. He has chaired the VR Lab in EPFL and is a pioneer in VR and digital humans.
Nadia Magnenat Thalmann is honorary professor at the University of Geneva and has led the MIRALab lab at the University of Geneva during many years. She has supervised numerous projects in medical field as the VR patient, the anatomical human and applications of digital humans to applications in cultural heritage.
These last 10 years, she has worked in Asia on medical VR projects as well as on the humanoid robot Nadine, who is able to recognize people, gestures and interact with them.
Both are now working in MIRALab sarl and will bring their long but also recent experience in intelligent and digital humans to the project.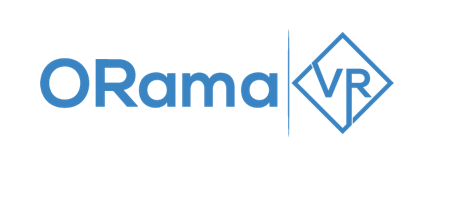 ORamaVR is a deep technology startup innovating the field of Virtual Reality (VR) medical training simulation platforms. Its technologies are based on state-of-the-art research by world-renown scientists team members.
This research is turned into a novel VR training platform by top engineers and business developers. ORamaVR's proprietary technology, award-winning, hybrid-SaaS MAGES™ platform, as well as its Customization Services, rely on breakthrough VR science.
This innovation, enabling code-free/low-code rapid authoring of medical training modules, accelerates the world's transition to medical VR training. Its published, randomized controlled clinical trials prove the medical credibility and efficacy of its medical VR training deep technology.